Microphone Upgrades and Builds
Greetings from Newport, Rhode Island! My name is Bob Damiano and I've been a recording engineer on and off for nearly 40 years. For nine of those years, I was a senior Software Engineer at Cakewalk. Before that, I was an Electronics Technician in a robotics lab. In my custom shop, we turn low quality (or broken) studio mics into great microphones! We also build our own LDC mics. We put care and attention to detail into our mics. The result is low noise, beautiful harmonic detail, smooth highs and full lows. Read more below or contact us for more information.
We love upgrading 990s. We transform them from entry-level mics to solid professional performers that look and sound gorgeous. Your mic will get our Brass Ring K47 Style Capsule and the 990 version of our jaSb circuit board with an optional internal pattern switch
---
MXL (and others) makes many other transformerless microphones which we can modify and drastically improve! We group all of these similarly shaped mics together because our standard jaSb circuit board will fit any of them. Some of the models we can upgrade are: 550, 910, 440, 2006 and many others. Your mic will get our Brass Ring K47 Style Capsule and standard jaSb Circuit with an optional internal pattern switch.
---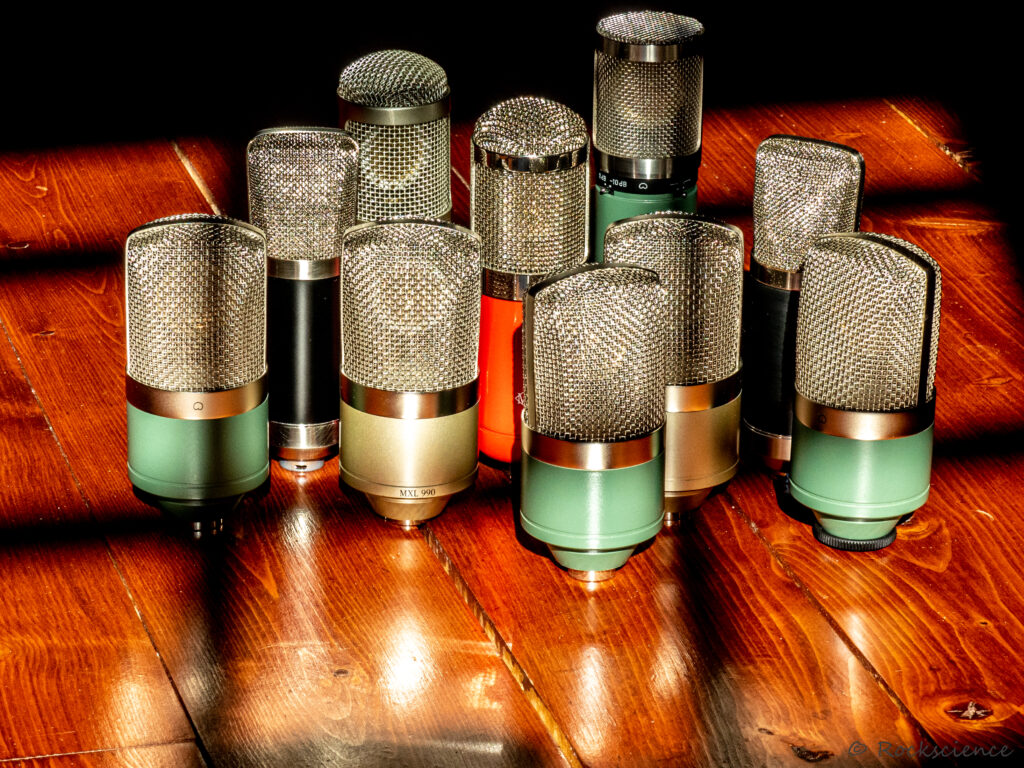 We keep a small stock of rescue mics that we have purchased and upgraded – some 990s, some others. We give them the full treatment with our Brass Ring K47 Style Capsule and jaSb Circuit. They are tested, burned-in and ready to ship!
---
We're very proud to feature our own custom mic build – the RS/47. This is not built into any donor body, it is built from scratch in our shop. The body is made in the same factory where many other commercial mic bodies are made. We use our same Brass Ring K47 Style Capsule and jaSb circuit. The mic is has a tiny footprint and can sneak into tight spaces. Despite its small size, it has a huge sound that we love.
---
So… What do they sound like?
…And "what can I use them on?" We answer both in this demo. Everything you hear was recorded with our mics. It features an upgraded MXL990, MXL550 and three of our own RS/47s. All mics have the same capsule and electronics. It was recorded here and at the excellent New Clear Studios in Windsor, NY. No EQ is on any individual track nor on the final mix.
The Circuit
Our Schoeps-Style transformerless circuit is produced in two footprints. One will fit many common cylindrical mics from MXL and others, and another specifically for the MXL-990 (and similar). Low-noise resistors and WIMA Polypropylene capacitors are in the audio path. The boards are fabricated in the USA.
Some mics perform poorly with low phantom power voltage. Our mics do not have this problem. Low-end mixers and audio interfaces (looking at you, Behringer) and video equipment provide phantom power that is sometimes under 20 volts. Our circuit works perfectly with anything over 12vdc.
Although the design is loosely based on the Schoeps CM circuit from the 70's, many people have done various tweaks and enhancements to that design. We have borrowed from those who came before, and spent many long hours at the bench working on our own tweaks.
Are the circuit boards for sale? Well, not at this time but maybe someday…
The Brass Ring k47 Style Capsule
We've tried several k47 style capsules from various suppliers and have settled in on one that we love. We call these the Brass Ring as they do not have the usual white plastic ring around the circumference like many other low-cost capsules do. We love the tone of these capsules and they are manufactured to very tight tolerances.
They cost a little more and have a non-standard mounting hole pattern. This required designing our own mounting cradle and pedestal. It was worth the effort, because they sound amazing! We now use these capsules in all our upgrades and in the RS/47. These are dual-sided capsules which can support cardioid or omnidirectional patterns.
We choose a k-47 style because of the inherent flat and wide frequency response of this capsule. Our jaSb circuit is tuned to have a very slight high frequency rolloff giving the mic a very smooth non-harsh top-end. The combination of this circuit and capsule produce what we think is a very rich tone with great harmonic complexity in the mids, plenty of presence in the top and a very nice full bottom end. You really can use them on anything (check out the video to hear that).
Here's another audio sample. I recorded this Joe Walsh hack very quickly after upgrading a Customer's MXL550. The recording has the upgraded 550 up close to the neck/body joint and one of our RS/47s above the body of the guitar facing down. Both in cardioid mode and neither with any EQ whatsoever.
MXL 990 Before and After Modification
In a recent 990 upgrade for a customer, I took the opportunity to record some tracks before and after and produced this short video from the result. The difference is quite amazing.
Capsule Mounting
The Brass Ring Capsules have a slightly unusual mounting hole pattern. To accommodate that, we designed our own pedestal and cradle and have them 3D Printed. The cradle has additional holes to fit more standard capsules too.
Mic Preamps (500-Series)
There are are a number of very good mic preamp kits available from many suppliers. I have built kits from CAPI, Hairball Audio and Sound Skulptor.
The Sound Skulptor MP573 is their take on the classic Neve 1073 Preamp. This preamp is made of all discrete components, in fact it is so discrete that it doesn't even use a standard 2520 footprint Discrete Opamp (DOA). It has a rotary stepped input gain switch and a variable output trim (+/-10dB) which lets you dial in the crunchiness of the amp a little bit. If we're scoring on weight, the MP573 is the winner. It is a seriously heavy solid component!
The Lola by Hairball is a bit of a specialty preamp. Unlike the others I have built, it is not aiming to imitate anything. Its main claim to fame is that it has a fully differential signal path within which should yield more headroom and a quieter noise floor. It also has the most sophisticated metering of any of the amps I've built so far. The Lola has TWO 2520 footprint DOAs in it. It has stepped input gain and an output attenuator pad.
The VP312 from CAPI is my go-to Amp. It's a nod to vintage API preamps with a very minimal parts count, input and output transformers and a single 2520 footprint DOA. Because of the low parts count, these are more amenable to modifications. When I build these, I modify them with a one or two-stepLow-Cut filter switch. My favorite configuration is with a OFF-100Hz-200Hz three position switch. This gives this incredible sounding amp a lot more versatility. I build them with the upgraded Litz output Transformer.
Which DOA?
There are several options available. For simplicity and reliability (and cost), I have been going with the Rogue5 and Rogue6 DOAs from Louder Than Liftoff. They have a mix of surface mount and thru-hole components and a very clean layout. I've also built GAR1731 kits from CAPI. I have a custom Jensen Transformer based Mic Splitter that I use to compare preamps with a single mic. There are definitely subtle differences between DOAs – especially with regards to transients – but all of these choices sound great. I usually have some of each in stock. For my own studio use, I've been going with the Rogue5.