If anything below interests you, please contact me!
If you have a low quality (or broken) Chinese LDC microphone, I can probably turn it into a great microphone!
If you are using 500-series components, I can build and mod various 500-series kits
Microphone Mods
If you have a low quality (or broken) Chinese LDC microphone, I can probably turn it into a great microphone for you. I have several modification options depending on which microphone you have. I've even started sourcing my own parts from China and have a few mics built from scratch! All work is done by me – very carefully – and burned in and tested in real sessions. I do my best to make the mics electrically and mechanically sound for a long reliable life. In my previous career (before the software career), I was in Electronics Manufacturing and those skills are coming in handy again.
MXL 990 Upgrade
The MXL990 is probably the most common low cost studio mic around. Despite its shape and size, it is actually not an LDC. The stock capsule is a 24mm SDC (and the same capsule they put on the end of their pencil mics). It's a harsh, and nasty sounding thing but it's built like a tank and is a great platform for modifications.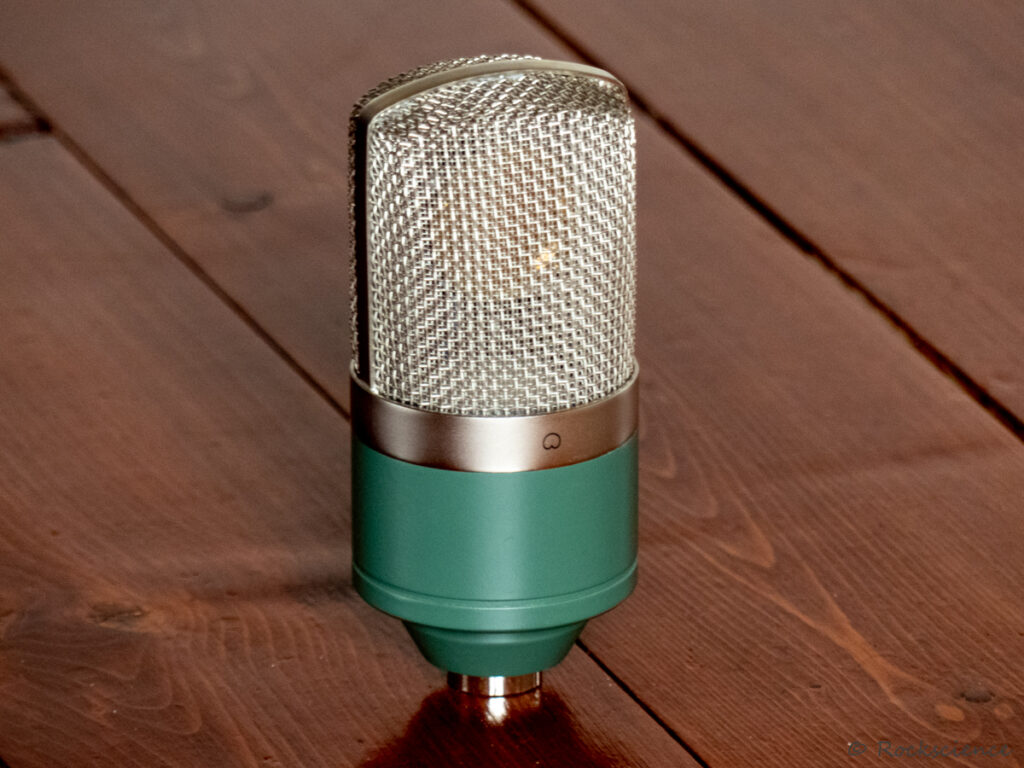 The Mod
I replace the low quality small capsule with a K47 style 34mm Capsule. For electronics, I use the circuit board kit from mic-parts.com. It's an awesome quality board which is a huge improvement over the MXL board. The FET is biased much more optimally than the stock MXL board, and it even gives you an Omni/Cardioid switch! I've also done these with other Capsules like a C12 edge-terminated style with great results. I have a matched pair of those in my studio and they absolutely smoke my AKG C414B-ULS.
As long as we're making the inside awesome, I replace the ugly MXL headbasket with the cool tapered one from mic-parts.com.
Sterling Audio ST55 / Groove Tube GT55 Upgrade
I finally got a chance to work on one of these (meaning I found one cheap enough on ebay to make it worth it), and it is probably the coolest mic in my collection now. This mic has Pad and Lo Cut switches (but no pattern switch). But the really interesting thing is that it has a Transformer output. Mechanically, this mic is awesome. It actually has some weight to it!
The Mod
The Sterling Capsule is not so bad. It's about 33mm (instead of the normal 34), has a K87 type hole pattern in the backplate and an interesting resonator disk on the diaphragm. I throw it in the trash anyway and replace it with a K47 style capsule. For the electronics, I use the mic-parts.com T84-55 Kit. The "T" is for Transformer. The 84 indicates that this is their take on the famous Neuman KM84 circuit (in an LDC). The mic-parts circuit supports the pad and low cut switches and they line up perfectly with the slots in the body. For the transformer, I use the mic-parts one. It is possible to swap in a higher-end tranny, but the mic-parts one is right in the middle of the road in terms of harmonic distortion. It's clean, but it's got some nice harmonic complexity that sounds wonderful on voice and violin/cello.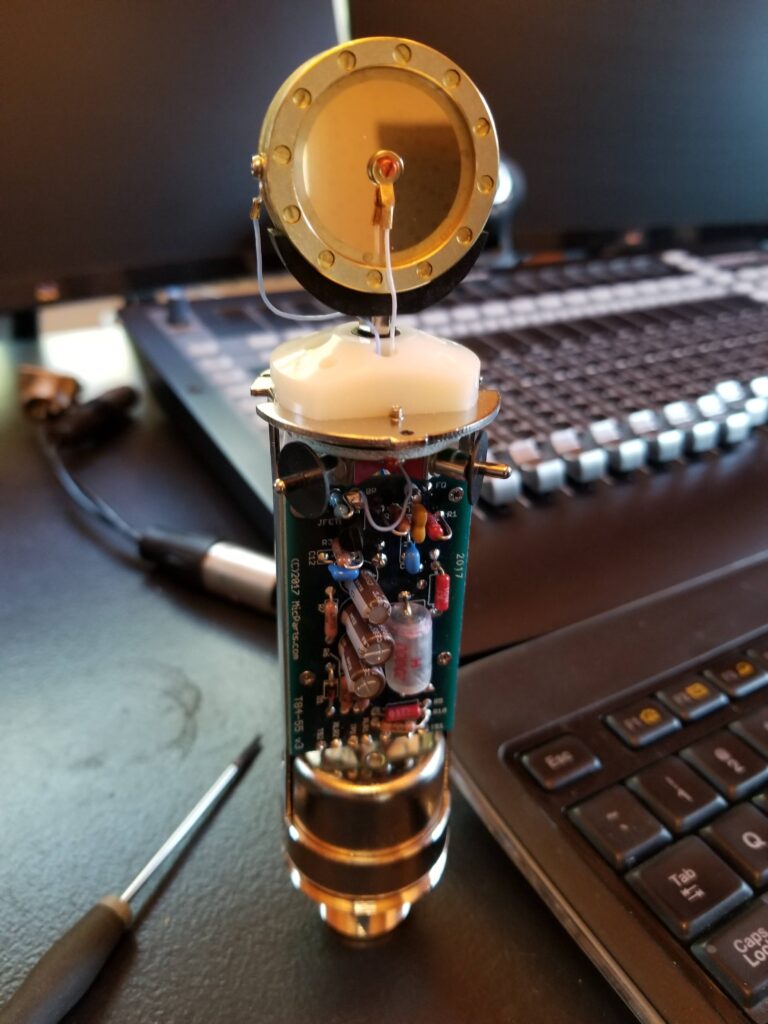 Other Mics
Most LDC mics these days come in one of a few different form factors. The internal dimensions for the circuitry and the capsule mounting have become somewhat standardized. Chances are, if you have a low-quality (or broken) Chinese LDC, I can do something with it. I recently did a MXL 910 and a MXL 550. I put K47 style capsules in both. The 550 still has it's original MXL electronics and it actually sounds very good! For these types of mics, I have more flexibility on which electronics boards to use. I have been very pleased with another bare board called the Pimped Alice v.56. I populate these boards with premium quality components and voice the circuit specifically for the K47. This combination sounds amazing but it is Cardioid Pattern only. If a pattern switch is important, it means looking at one of the mic-parts boards instead.
My Own Mics!
Yes, I'm in the Chinese import business now! These are not based on any "donor body" mic. These are built into a batch of microphone bodies I bought from China (same factory making most of the other donor mics). I mount a K47 style capsule using a custom manufactured (3D printed) mount and add the same premium electronics that I do in the mods above. The result is rather plain looking thing that sounds amazing!
I think I'll call it the RS-47. It's a solid mic with a surprisingly small footprint. The capsule and electronics fit very cleanly inside this body. I also sourced a high quality gold-plated XLR output just to make it nice end-to-end.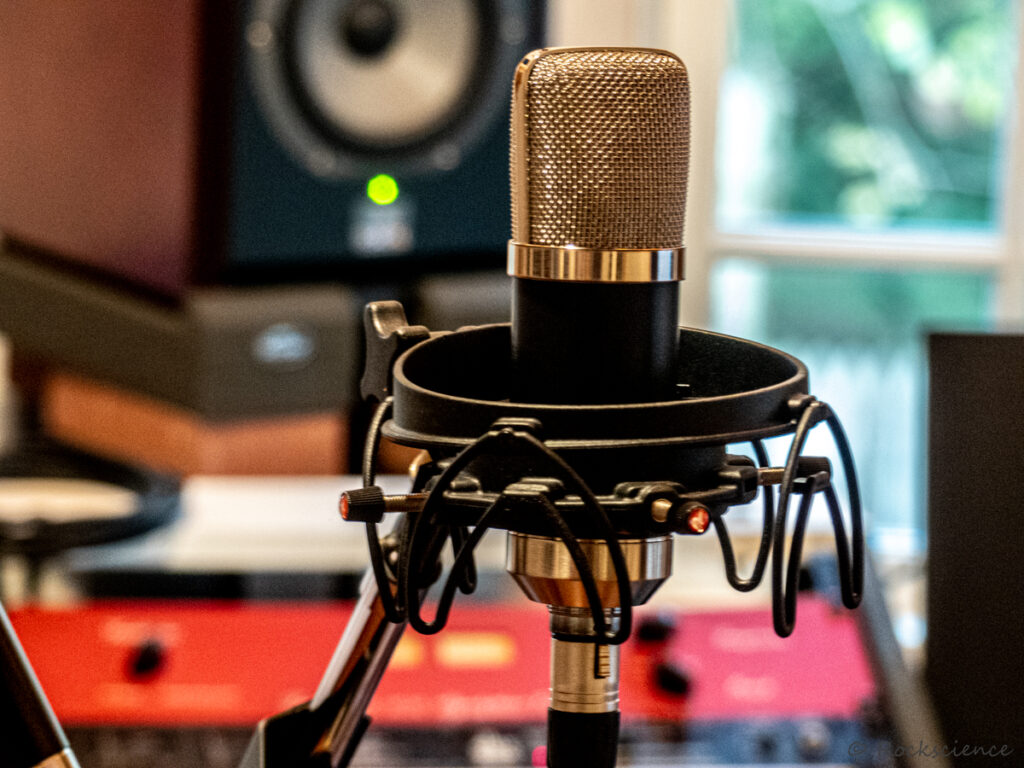 Capsule Mounting
There are various mounting systems for LDC capsules and various hole patterns in the capsules. Some of the capsules sources I use provide a saddle which works pretty well, but some don't. I decided to design my own saddle and have it 3D Printed which works with any capsules I've come across so far. I'm happy to share the raw FreeCad file or the STL for printing.
Mic Preamps (500-Series)
There are are a number of very good mic preamp kits available from many suppliers. I have built kits from CAPI, Hairball Audio and Sound Skulptor.
The Sound Skulptor MP573 is their take on the classic Neve 1073 Preamp. This preamp is made of all discrete components, in fact it is so discrete that it doesn't even use a standard 2520 footprint Discrete Opamp (DOA). It has a rotary stepped input gain switch and a variable output trim (+/-10dB) which lets you dial in the crunchiness of the amp a little bit. If we're scoring on weight, the MP573 is the winner. It is a seriously heavy solid component!
The Lola by Hairball is a bit of a specialty preamp. Unlike the others I have built, it is not aiming to imitate anything. Its main claim to fame is that it has a fully differential signal path within which should yield more headroom and a quieter noise floor. It also has the most sophisticated metering of any of the amps I've built so far. The Lola has TWO 2520 footprint DOAs in it. It has stepped input gain and an output attenuator pad.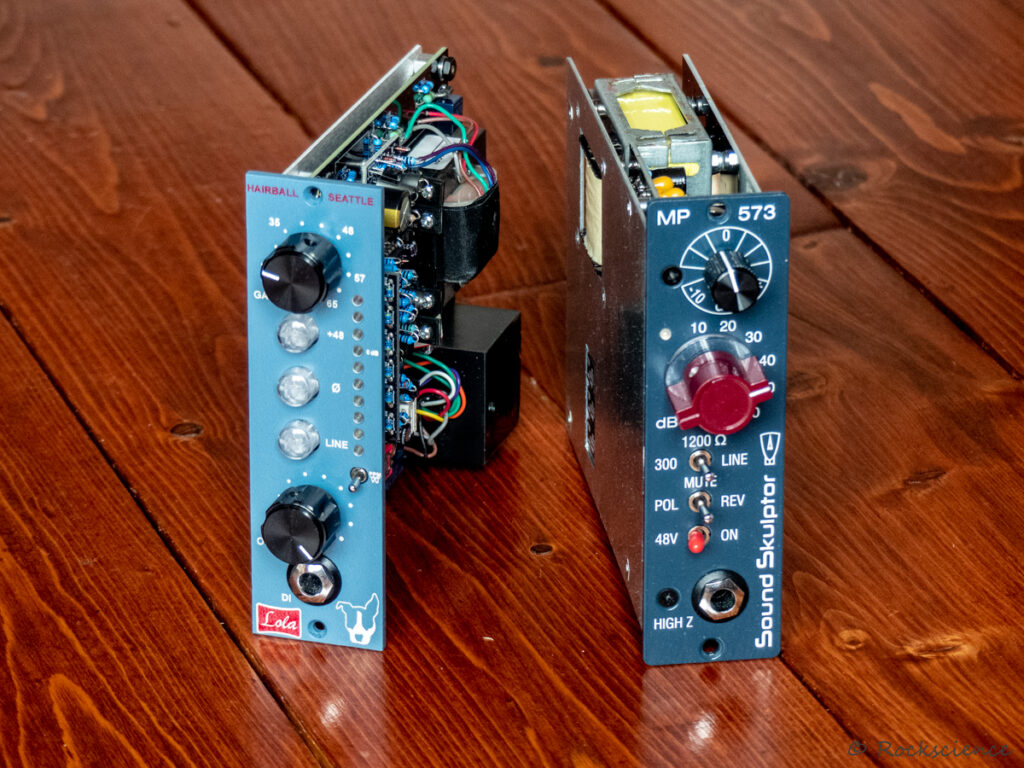 The VP312 from CAPI is my go-to Amp. It's a nod to vintage API preamps with a very minimal parts count, input and output transformers and a single 2520 footprint DOA. Because of the low parts count, these are more amenable to modifications. When I build these, I modify them with a one or two-stepLow-Cut filter switch. My favorite configuration is with a OFF-100Hz-200Hz three position switch. This gives this incredible sounding amp a lot more versatility. I build them with the upgraded Litz output Transformer.
Which DOA?
There are several options available. For simplicity and reliability (and cost), I have been going with the Rogue5 and Rogue6 DOAs from Louder Than Liftoff. They have a mix of surface mount and thru-hole components and a very clean layout. I've also built GAR1731 kits from CAPI. I have a custom Jensen Transformer based Mic Splitter that I use to compare preamps with a single mic. There are definitely subtle differences between DOAs – especially with regards to transients – but all of these choices sound great. I usually have some of each in stock. For my own studio use, I've been going with the Rogue5.